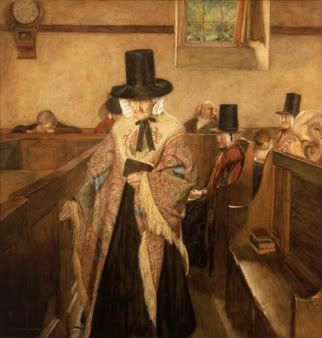 Salem: Can you spot the devil?
'
Salem
' is a painting by
Sydney Curnow Vosper
, and shows the inside od a Baptist chapel in
Cefncymerau, Llanbedr
in
North Wales
. The central character
Siân Owen
of
Ty'n-y-Fawnog
who as you can see is making her way to her families pew to get ready for worship.
But this painting has an eerie story to it. It is said the the
devil's
face can be seen in the
Welsh
ladies shawl.
Its also believed that the
shawl's
elaborate brightness is a comment by
Vosper
on the sin of vanity.
I have have a copy of
Salem
in my games room and its one of my favourite paintings. Not only because of the creepy story but its a wonderful look back at how life used to be in
Wales
.